Over 35 years of experience and satisfied customers
Trustworthy, 100% competent, solution-oriented, easy to deal with, professional employees. Always bringing very good solutions to our queries.
Proposed solutions, planning and implementation of the project in a very professional and constructive manner.Good problem solving, easy to understand and friendly.
Loyal business friends for many years helping you resolve practically all challenges that come along with laundry operation. They "walk the talk"! We consider ourselves lucky to be able to work with the entire team of industrial professionals for number of years. Deliveries are always on time and in case of blue print changes they react quickly in professional manner. To this day our strong partner in laundry automation and therefore part of our success, for which we thank you.
Our cooperation started with Mr. Gerhard Engel and his patented vacuum transport system, which differentiated your firm from other suppliers. Ever since, very pleasant and good cooperation.
We continue to be excited about the high savings potential, especially in laundry logistics, and strong operation of the systems.
The greatest achievement last year was the shuttle I designed and you delivered that was spot on even though its difficult layout and function.
Very professional, fast, reliable, friendly. Both high quality and complex solutions.
Productive, continuous and cooperative cooperation for over 20 years.
We have been working together successfully since 2013. Good solutions, reliability and cooperation. All systems very functional and well thought out.
The cooperation is very pleasant and reliable. There are binding statements and the adherence to delivery dates is exemplary. The delivered systems correspond exactly to our specifications, which we were able to expand with the help of your ideas and suggestions.
The cooperation with Engel-Gematex is trustworthy , flexible and professional. Our requests are considered without delay, the answers are clear, detailed and well explained. One of the many positive moments was the installation of the 125 TT dryers. Perfect start, trouble-free for 4 years, remarkable performance: 3.5 passes per hour with steam dryers ! Great customer satisfaction.
We develop tailor-made solutions for your laundry, textile cleaning, industrial laundry and your textile processing company.

OVER 35 YEARS ON THE MARKET
Benefit from our long-term
experience.

LATEST TECHNOLOGIES
We develop tailor-made solutions for your laundry, textile cleaning, industrial laundry and textile processing company.

CUSTOMER SERVICES
Our service technicians are quickly on the spot to solve any possible problem.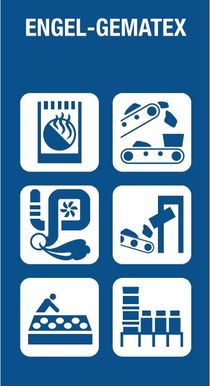 CERTIFICATION
The certification according to ISO 9001 confirms the top quality of Engel-Gematex.

CONTINUITY
Long-term and trust-based cooperation is our priority.

MADE IN EUROPE
We bring movement into the laundry business.